Grand London Bike Tour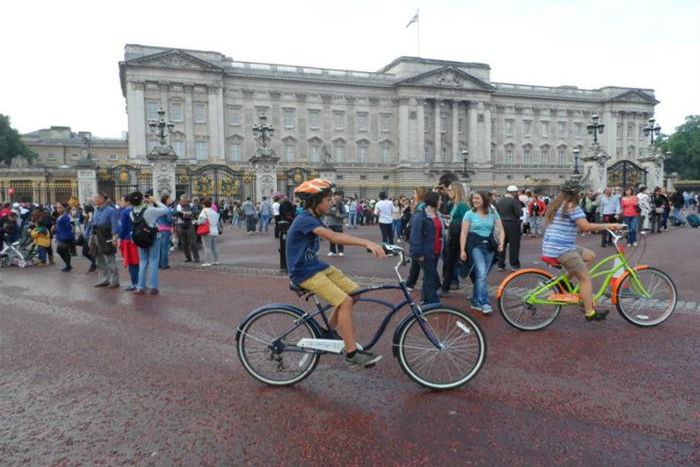 Important Information
Operates:
Daily
Planned closures:
25th and 26th of December
1st of January
Departure time:
Meeting Point:
Outside the entrance to platforms 1 & 2 at Waterloo Station
Duration:
Please note:
All tours leave 10 minutes after the alloted departure time. Please arrive 15 minutes before departure.
Please note there is a minimum of 3 people per booking.
MORE INFORMATION
Want to see all of London's must see sights and attractions? Want to hear quirky tales about London's amazing and sometimes bizarre history? Want to visit off the beaten track areas that the tour buses can't take you? Then this is the tour for you. The Grand London tour is designed to show you London in all its glory – great monuments as well as hidden nooks and crannies, and give you a taste of Londoner's London.
Cycling casually alongside riverside pathways, cycle lanes and park routes, ensuring your complete safety at all times, the tour includes stops at highlights such as the London Eye, Big Ben and the Houses of Parliament, Westminster Abbey, Buckingham Palace and the magnificent Royal Parks, where you will stop for a refuelling break by the lakes. Then pedalling along the Mall you will also we also see Admiralty Arch, Trafalgar Square, Chinatown, Covent Garden and St Paul's Cathedral. Wow! That's quite a list of places.
Yet, true to form you will also hear about the unique, strange and amusing elements of this great city. How else would you ever find the world's smallest police station or an ancient Egyptian tower that has survived 3,000 years; learn about the historic struggle between the town planners and the milkmaids at St. James Park; or discover the church that inspired the wedding cake?!There are so many other wonderfully eccentric characters, peculiar traditions and eyebrow-raising monuments to discover on this carefully selected route, that the GRAND LONDON TOUR really is a must-do for anyone who wishes to unravel London's most bizarre past and present.