The Painted Hall at the Old Royal Naval College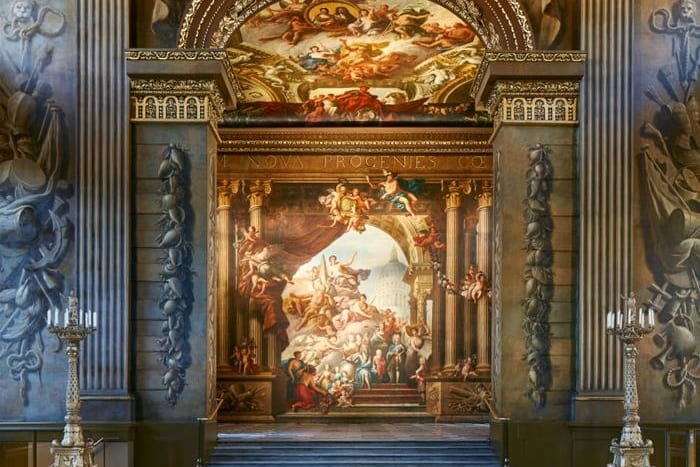 Important Information
Opening Times:
Entry Available: Daily 10:00am – 5:00pm (last entry 4:30pm)

Entry to Grounds Available: Daily 8:00am – 11:00pm

Location: The Painted Hall at the Old Royal Naval College, King William Walk, London, SE10 9NN
Please note the Painted Hall will be fully closed on the following dates:


Monday 7th March 2022


Tuesday 8th March 2022


Wednesday 9th March 2022


Thursday 10th March 2022


Please note the Painted Hall will be closing early on the following dates:


Saturday 19th March 2022 – closing at 3.30pm


Saturday 16th April 2022 – closing at 4pm


Saturday 11th June 2022 – closing at 3.30pm


Please note:
Further to the latest UK government announcement, you must wear a face covering (unless exempt) for entry into this attraction. You will be refused entry without one.
MORE INFORMATION
Have the opportunity of a lifetime in the Old Royal Naval College's Painted Hall that is famously dubbed 'the Sistine Chapel of Britain'. Known for its mesmerising painted ceilings with one of the most iconic representations of Baroque styles in Europe, it is an absolute must-visit for Londoners and tourists alike.
his sensational tour shows paintings that represent the accessions to the throne of William III, Mary II and George I as well as the United Kingdom's historic successes during the 18th century. With over 200 figures represented, there is much to see and discover as you explore one of country's most breath-taking buildings.
With audio commentary throughout, you'll get to hear of Sir Christopher Wren's famous work as well as having the opportunity to drop in on talks about the Painted Hall. Explore one of the many fascinating exhibits and get hands on experience with the treasure chests filled with sensational historic objects.
Your ticket also includes entry to the new Sackler Gallery where you can learn how Thornhill created the Painted Hall and come face to face with many of the gods and heroes represented on this world-famous ceiling!
Housed in the iconic building of the Old Royal Naval College, the Painted Hall is an unmissable visit and for a limited time only, the ceilings tour provides you with the best possible views of some of the greatest artwork the capital has to offer. Don't miss out!